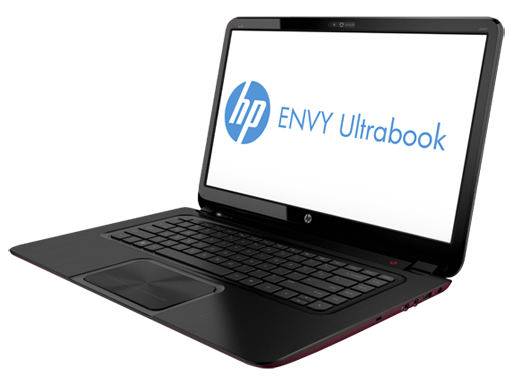 Just when Apple and other companies began to tighten their grip on the ultrabook market, HP stepped in with its ultrabook- the Envy 4. Let's dig into what this amazing piece of circuitry from Hewlett-Packard can do. Enjoy.....
Design- Two words to describe it- Sleek and Smart. It's so light that you'll feel that it's going to slip out of your hands at any moment. Just 1.75 kgs and 0.78 inches thick!! The HP Envy 4 sports a 15.6 inch HD Brightview LED Backlit display with an amazing 1366x768 pixel resolution. It comes with 2 USB 3.0 ports, 1 USB 2.0 port and an HDMI cable.
You have a standard Qwerty keyboard which is backlit. There's a TrueVision HD Webcamera and 4 Beats Audio speakers for an amazing sound output. The brushed aluminium chassis gives a really nice style quotient. And the color choice......bang on red!! After the Macbook Pro, I think the Envy 4 beats everyone in the design department.
Build Quality- Not much to say; it's good. That is if you don't drop it from the Grand Canyon or any place with that kind of an altitude!!! Needless to say, the aluminium will provide the needed protection from the elements. Don't believe me? Well the official commercial for the Envy 4 says it all: UltraSafe!!
Functionality- Impressive.......like Ultra Impressive. The Envy 4 comes in a lot of variants; so I really can't explain the specs of each and every one of them. Instead I'll talk about the salient features of all of them. It runs on Windows 7 Professional(64-bit) and is powered by a 3rd Gen Intel 1.7 GHz processor. It comes preloaded with 8 gigs of RAM, but you're always free to max it out upto 16 gigs. Nevertheless, 8 is great!!
Intel HD graphics are there to aid your graphic needs, but if you're in need for something beefier(provided your wallet doesn't tremble), you can get a discrete 2 GB of AMD Radeon Graphics!!
The Beats Audio Speakers live up to their name, giving you crystal clear playback of your favorite files. The HD Webcam makes great quality video calls. It's Wi-fi compliant and comes with a 320 GB Hard drive. Considering that ultrabooks these days come with a solid state drive or chunkier hard drives, the Envy 4 is a bit of a letdown considering storage. Also we felt cheated with the battery life. If you look up the Official HP website, the Envy 4 lasts upto 8.25 hours on a single charge, when it actually lasted for just 5.8 hours.
Pricing
- It's every ultrabooks dream to be a best seller in the market and the HP Envy 4 might be able to make this dream a reality. It's priced at just $899 which is a giveaway price for an ultrabook!! Well, not exactly giveaway but you might think twice before spending a 1000 dollars on those Macs.
Quick Specs:
2nd Gen Intel i5/i7 or 3rd Gen i5 processor

2, 4 and 8 GB RAM(upgradable to 16 GB)

Beats Audio Sound System

TrueVision HD Webcam

1366x768 screen resolution

Windows 7 Home Premium/Professional(64-bit)

5.8 hour battery life

320 GB hard drive(ughhh!!!)
The Verdict- HP has done a good job in making the ultrabook not so "ultra-priced". The Envy 4 Ultrabook is designed for students and for portable computing in general. It's light, fast and though it has a few blemishes, it's sure to give you a run for your money.